On Tuesday, Sept. 3, Microsoft announced that it was buying Nokia's mobile phone business for just under $7.2 billion.
Nokia remains an independent company in Finland, but much smaller, keeping its network infrastructure business, its maps and location-based services, and it's licensing and development arm. About 32,000 employees of Nokia will transfer to Microsoft in the deal.
For many, this deal does not come as a surprise., Nokia was the only major mobile phone company to exclusively use Windows Phone 8 as its operating system – the deal they made two years ago when the new CEO of Nokia, Canadian Stephen Elop, moved from Microsoft to head the Finnish company.
Today, some analysts are referring to Elop as a "Trojan horse" from Microsoft because his tenure has seen what was a mobile phone giant go down the tubes with heavy losses. This weakened Nokia severely so that Microsoft only had to pay a fraction of what the company was worth when Elop started.
A more likely explanation of this deal comes from the "disruption theory" proposed by Prof. Clayton Christensen of Harvard.
In this theory, a technology comes along that is so successful that the major players must concentrate on staying ahead of its competitors with incremental "sustaining innovations" to maintain market position and to keep revenues high.
Then, along comes a startup with little market share, or an established company willing to make a radical move, with a "disruptive innovation" aimed at an under-served population that appreciates the new offering.
The challenger then builds a business within the new under-served market, eventually gaining enough momentum to later challenge the incumbents in their market space.
Christensen, writing in 1997 in a fantastic book called "The Innovator's Dilemma: When New Technologies Cause Great Firms To Fail," used his theory to illustrate the stages of disruptive and sustaining innovation for several industries ranging from lighting when it changed from gas lamps to electric bulbs, to refrigerators that displaced ice boxes.
What has happened in the mobile phone industry mirrors Christensen's theory almost exactly? Eight to 10 years ago, the leaders in mobile phone manufacturing were Research in Motion with its BlackBerry smartphone for business, and Nokia for low-priced feature phones.
As recently as 2009, Nokia's Symbian operating system had over 50 percent of the mobile phone market worldwide, as the chart below shows.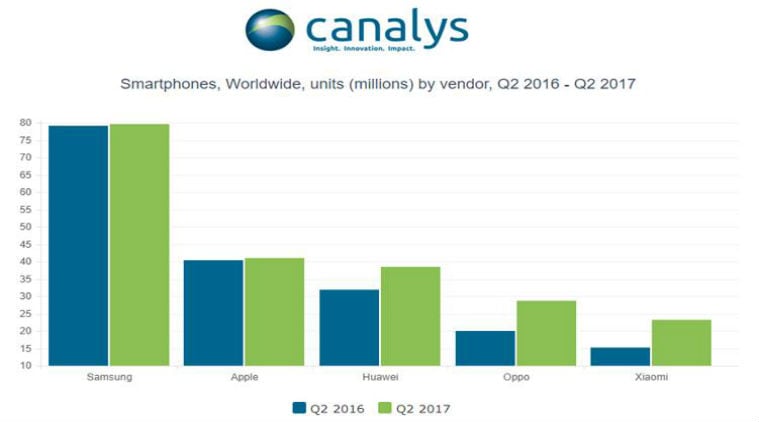 In 2007, Apple introduced the iPhone into the then-undeserved consumer market. It took off with such momentum that Apple's iPhone quickly became a contender to take over the mobile phone business.
In a defensive move, Google-backed and later bought Android Inc. and made it an open standard for mobile devices. The first Android-powered phone was sold in 2008 by Taiwanese manufacturer HTC, and now Android phones, dominated by Samsung, have 79% of smartphone sales worldwide.
However, in North America, Apple's smartphone share of sales is a very healthy 43.4%.
Both Microsoft and Nokia are struggling to maintain any credible position in the mobile phone market.
It's not as if Microsoft didn't have its chances to be innovative in this space.
It had reasonable success (11% of market share) in the personal digital assistant (PDA) market in the 1990s with its Windows CE operating system for mobile devices, and its successor, Windows Mobile enjoyed 23% of market share in 2004. And, as Harry McCracken of Time commented just 3 days before they announced the Microsoft/Nokia deal, Microsoft had the technology to develop a disruptive touch phone at the same time as Apple.
It was Microsoft Surface — not today's tablet computer by that name, but the tabletop computing system Steve Ballmer unveiled at the D conference in May, 2007…. So if you want to imagine Microsoft inventing the iPhone, it's easy. Just summon up a mental image of Microsoft researchers demoing Surface to Steve Ballmer while it was in its earliest stages of development. Then ask yourself: What would have happened if Ballmer had said "That's fantastic — can we build it into something you can put in your pocket and sell it at a profit for a few hundred dollars?"
So, what we have here is a failure of imagination by Microsoft, because it was concentrating on making big profits from its Windows and Office products, while Apple, a much smaller company, broke into the consumer market for mobile phones, and then tablets, and cleaned up.
What does this deal mean for the mobile learning industry?
It likely means that buying devices for Apple's iOS and Google's Android are sure bets, while BlackBerry, Microsoft, and Nokia are all doomed in future attempts to produce a market-leading mobile device. (Unless one of them comes up with a new disruptive innovation for an underserved market and starts the cycle again – an unlikely scenario.)
This is important information for those who have to decide about which mobile operating system and devices to purchase for mobile learning.
There are lots of analysis out there on the Microsoft/Nokia deal and what led up to it. Here are a few that I thought were insightful:
The following two tabs change content below.
Gary Woodill is a senior analyst with Float, as well as CEO of i5 Research. Gary conducts research and market analyses, as well as assessments and forecasting for emerging technologies. Gary is the co-editor of "
Mastering Mobile Learning
," author of "
The Mobile Learning Edge
," and the co-author of "Training and Collaboration with Virtual Worlds." He also presents at conferences and is the author of numerous articles and research reports on emerging learning technologies. Gary holds a doctor of education degree from the University of Toronto.
Latest posts by Gary Woodill (see all)