With the question of who exactly is interested in mobile learning, in the mind's back, Float got down to the bottom of things. By monitoring the companies who frequently visit our website, download our content, and reach out to our web and communications teams, we've determined which vertical markets are most interested in mobile, microlearning and mobile apps for performance support.
As we shared previously, we produced a dataset of the Top 10 Industries interested in mobile learning, and you can check it out here.
Here is our first industry insight into our #1 industry—Defense and Space.  
Defense and Space are vast buyers of training tools, products, and services. Want to see how big? Check out I/ITSec.org to get a good idea. With the need to share information no matter where their learners are and do it quickly it should then come as no surprise that the defense and space industries are interested in mobile learning. There are many reasons mobile learning is beneficial to this industry. Here are several examples of how mobile learning has been used in this industry taken from CTTSO.gov's (The Combating Terrorism Technical Support Office) annual viewbook:
3D weapons models and applications

(p. 65)

This capability allows for interactions through gamification, guided practice and performance support for different weapons task. These applications can also reveal an X-ray that will enable the mobile user to view the inner workings of the weapon.

Task Force Officer Mobile Learning and Performance Support

(p. 60)

Because Task Force Officers (TFO) have such complicated jobs in an environment where the information is continually changing. The rules, regulations, and role-specific considerations are becoming more challenging to navigate, and because of this, TFO's are often away from their computers or traditional training venue. Mobile devices allow for timely delivery of training content and just-in-time information anytime and anywhere. Float developed the TFO Mobile Learning and Performance Support app and provides TFO training content on mobile devices. The on-demand training and performance support material covers topics like human trafficking, smuggling, and financial crimes.

AR Mobile Learning Technology

(p. 67)

Augmented reality (AR) technology has proven that it has the abilities to enhance learning environments, and it has the potential to improve the overall performance of our defense and law enforcement personnel.
In 2016, the US military had an operation and maintenance budget of almost $200 billion (p. 29) USD, which is the largest budget of any appropriation category. In any business, it is vital to minimize the costs and errors in performing maintenance tasks. Unfortunately, the military doesn't always have enough skilled technicians to send to all the required maintenance sites, and because of this, soldiers often must perform maintenance on systems that far outside of their comfort zones and training.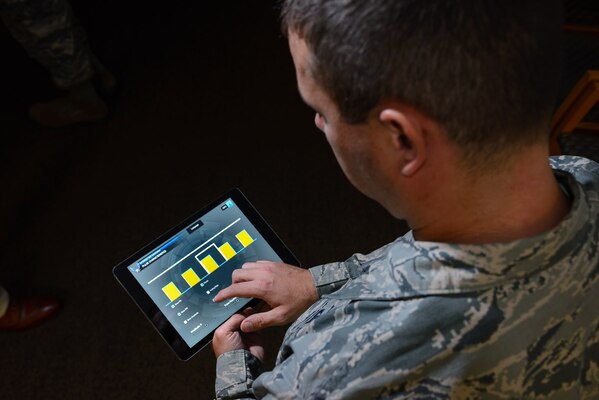 Augmented Reality (AR) has been shown to be effective in delivering context-aware directions and reducing the time by more than 50% (p. 950) to identify the correct steps toward repairing. Despite the fantastic potential of AR, it would be tedious to create a set of instructions for each piece of machinery. However, by connecting the remote soldier with a technician, the maintenance instructions can easily be transferred to the former with ease.
A mobile app called the Augmented Reality Customer Collaborator (ARCC) was designed and developed using the Unity3D gaming engine which equips remote soldiers with the use of AR and the knowledge of the technician. With the app, a live video feed of the soldier's location is streamed to the engineer, who can send back real-time directions in the form of augmented 3D models and animations. After the soldier receives the instructions, it overlays the augmentations onto the physical object, and the technician-recommended maintenance steps become visible.
Through the use of AR to assist with field maintenance can remarkably reduce the cost of repairs and the numerous errors across the board. As time goes on, AR guidance will continue growing and help anyone perform complex tasks without specialist guidance (p. 51).
Float can also attest to a large amount of training interest in mobile technologies and apps. Float has designed and developed several apps, experiences, and technologies are to be used by service members for a variety of use cases.  We've completed some fantastic research projects in the space and have been impressed by for the forward-thinking our clients have shown.
We envisioned a bold and futuristic tool to approach augmenting an operational environment by creating a personal assistant prototype. This prototype can assist with three primary use cases: 1) location help, 2) environmental signifiers (such as OCR, real-time text translation, and numerical mask identification), and 3) personal identification help via face recognition. Need more info? It was covered in the CTTSO View book here (p. 67).
Float had the great privilege to create an application to assist military members to adjust to the civilian life once their terms were over. The Transition Assistance Program (TAP) Mobile App, this xAPI app aids military service members in making plans and establishing goals for success in noncombatant life.  TAP will allow returning troops and their counselors to track their progress with over 200 personalized tasks it must complete. As an example, the app offers a geolocation feature which will help service members find nearby wellness services and institutions for education, careers, training, and entrepreneurship. It can enable push notifications to remind the user to complete the assigned tasks on schedule. They developed tAP for Android and iOS devices.
These are just a few examples of how the Space and Defense Industries are using mobile learning to their advantage. What do you think? Is mobile technology made for the modern military? What sorts of efforts have you seen in creating great mobile tools for defense, space, and related fields?
The following two tabs change content below.
Latest posts by Alexis Benson (see all)