With the question of who exactly is interested in mobile learning, in the back of our mind, Float hunted down the answer. We monitored the companies visiting our website and their content interests for six months. After that, we determined which vertical markets are most interested in mobile, microlearning, and mobile apps for performance support.    
After studying the key metrics, including industries, website visits, documents which were downloaded by the individual sectors, we produced a dataset of the Top 10 Industries interested in mobile learning. Want to see the rest of the list, check this out here.
Here are the results for our #5 Industry: Telecommunications.
Why Mobile Learning?
Telecommunications continues to be one of the fastest-growing and ever-changing industries worldwide. Fueled by the evolution of technology, telecommunications is seemingly in a permanent state of flux. It wasn't too long ago that this industry was about wired phones and fixed lines. Phone calls were the biggest generator of revenue for telecom companies.
This scene has dramatically changed over the years- especially with the addition of mobile and internet. As of 2017, the high-speed internet has been installed in over 109.84 million US households. Also, in 2017, over three-quarters of Americans (77%) reported owning a smartphone. Advances like this allow the industry to deliver much more than the ability to talk to one another. With this in mind, it's no wonder why the mobile platform industry is one of the most significant game-changers in history. Nearly every adult that wants one owns a smartphone. In 2017, it reported that 92% of 18-29-year-olds, 74% of Americans age 50 and older, and 42% of those 65 and older also informed as to owning a smartphone.
With these high numbers of customers reporting the usage of these mobile devices, it makes sense that telecom companies have a lot of information to teach to their employees. For huge companies like Verizon, who had 152.645 million subscribers by the second quarter of 2018, that is over 155,4oo employees (as of 2017) who serve as gatekeepers between revenue and customers. So how do these telecommunications companies reach employees who are spread out across the country? How will new employees catch up on information and find answers to questions that customers may ask?
Telecommunications and Mobile Learning
Telecommunications companies are charged with the task of updating learning materials and upgrade them to fit the constant flux in technology with new products and services and ever-changing market conditions. How can they do this effectively? The answer is simple: mobile learning. Mobile learning gives companies the ability to digitally change training course material when necessary without having to recall former printed material. Not only does this save a lot of time and money, but it also enables companies to meet their learners where they are, no matter the time or location.
One of the telecommunication companies that has embraced mobile learning (learning) is BlackBerry. BlackBerry's Channel Partner Training Team worked with the company OnPoint Digital, to move beyond the traditional online training courses and webinars. The result was launching weekly materials to detail essential features of BlackBerry 10 as mLearning content that would be delivered to the team's mobile phone.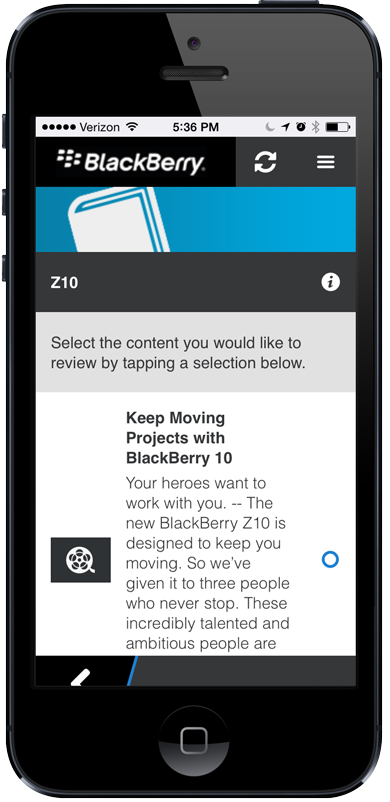 Let's look at how OnPoint Digital did this:
This app launched in January 2013 and quickly expanded, covering 110,000 workers at 95 unique companies in 25 countries in 14 languages. We're not surprised by this. OnPoint does excellent work and has led the way in this area for a long time.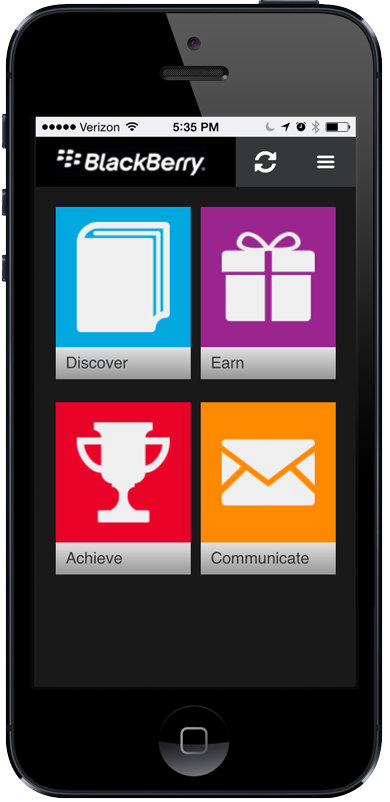 Mobile Learning + Float
Float has also done extensive work within this sector of mobile learning.  Float, along with cellular technology giant, Qualcomm, published "CHAMPIONS." With the  Learning Center team, Float created a framework that allows organizations to leverage the unique capabilities of digital technologies to improve human performance.
"CHAMPIONS encourages organizations to embrace technologies to achieve results in ways not previously possible for their workers," announced Chad Udell, managing director and co-author of the framework. "It is a shift in thinking for enterprise-level organizations interested in maximizing workplace performance."
This framework was designed to be versatile and flexible as technologies continue to evolve within the marketplace. CHAMPIONS provides a bridge to integration among new technologies and enterprise systems.
"Organizations are struggling to solve tomorrow's learning challenges with yesterday's tools," said Geoff Stead, former director of mobile learning at Qualcomm and co-author. "The CHAMPIONS framework introduces new technologies to reach new learners in new ways."
Check out the video promotion for this content.
CHAMPIONS consists of nine independent clusters that can enhance the effectiveness of a telecommunications organization:
Contextual

– Deliver information that will meet a learner's specific and immediate needs.

High Speed

– Improves the content delivery to keep up with the increasing pace of the workday.

Ambient

– Gives employees what they need without having to ask for it.

Mobile

– Reach employees who are connected with their devices with utilities to amplify their skills.

Personal

– Support individual learning and information with access to custom content for each employee.

Interactive

– Enhance the relationships between the audience and content by allowing them to explore and construct a new way of understanding.

Open

– Make the information available for everyone through the enablement of content and data transparency.

Networked

– Share resources, software, and information among different devices.

Social

– Introduce new opportunities for connection and collaboration and learning from others.
For more information, visit gowithfloat.com/champions/ to download the CHAMPIONS starter kit, which includes the CHAMPIONS framework (68-page PDF), a self-assessment guide, and an infographic overview to get started.
What are your thoughts on how mobile learning helps the telecommunications industry stay up-to-date? Can you think of any other examples? Are you in the telecommunications industry? How are you using mobile technology with your workers?
The following two tabs change content below.
Latest posts by The Float Team (see all)